Parents' and Grandparents' Tea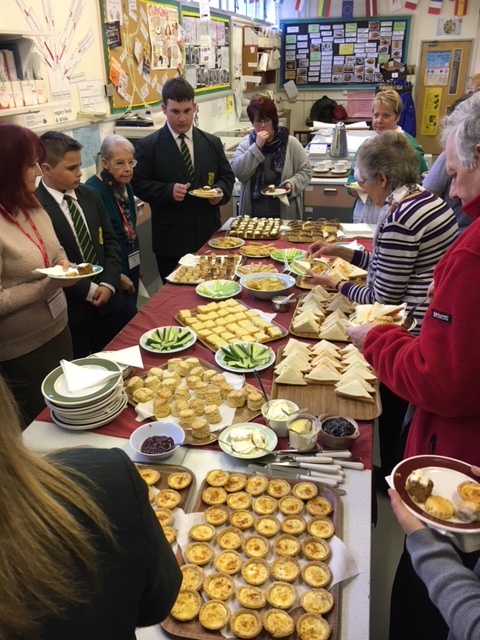 Talented students proved they have the recipe for success as they served up tasty treats at a grandparents' tea party this afternoon.
Fourteen and fifteen year old pupils of Newent Community School and Sixth Form Centre showed off their cooking, community and teamwork talents at the event which delighted guests declared was just their cup of tea.
Lemon drizzle, scones, mini quiches and cheese straws were among the delights cooked up by a dozen Year Ten students and shared with their grandparents, some of whom had never visited the school before and others of whom represented several generations of Newent Community School students.
Anne Rogers, grandmother of Emily Mattingley, said: "It was a fantastic spread, there's so much talent here. I'd never been into the school before and it was a pleasure to be involved. It was really lovely, I hope we're invited again.' Emily's grandfather, David Rogers, added: "It was superb, what a lot of hard work must have gone into it, and it was a great insight into what's going on here". Emily said: "It's a really good idea, it includes people who don't normally get the chance to come to school".
Angela Lloyd, grandmother of Thomas Summers, represents three generations of Newent Community School students. She said: "From being greeted at the door, it was lovely, it was organised so well and the food was excellent."
Teacher Pippa Palmer who ran the event was delighted with the students, saying: "It was a really positive response from visitors and the students who demonstrated fantastic team-work and hard work for a brilliant event." She also expressed her gratitude to parents who came and assisted.