Mental Health Champion Award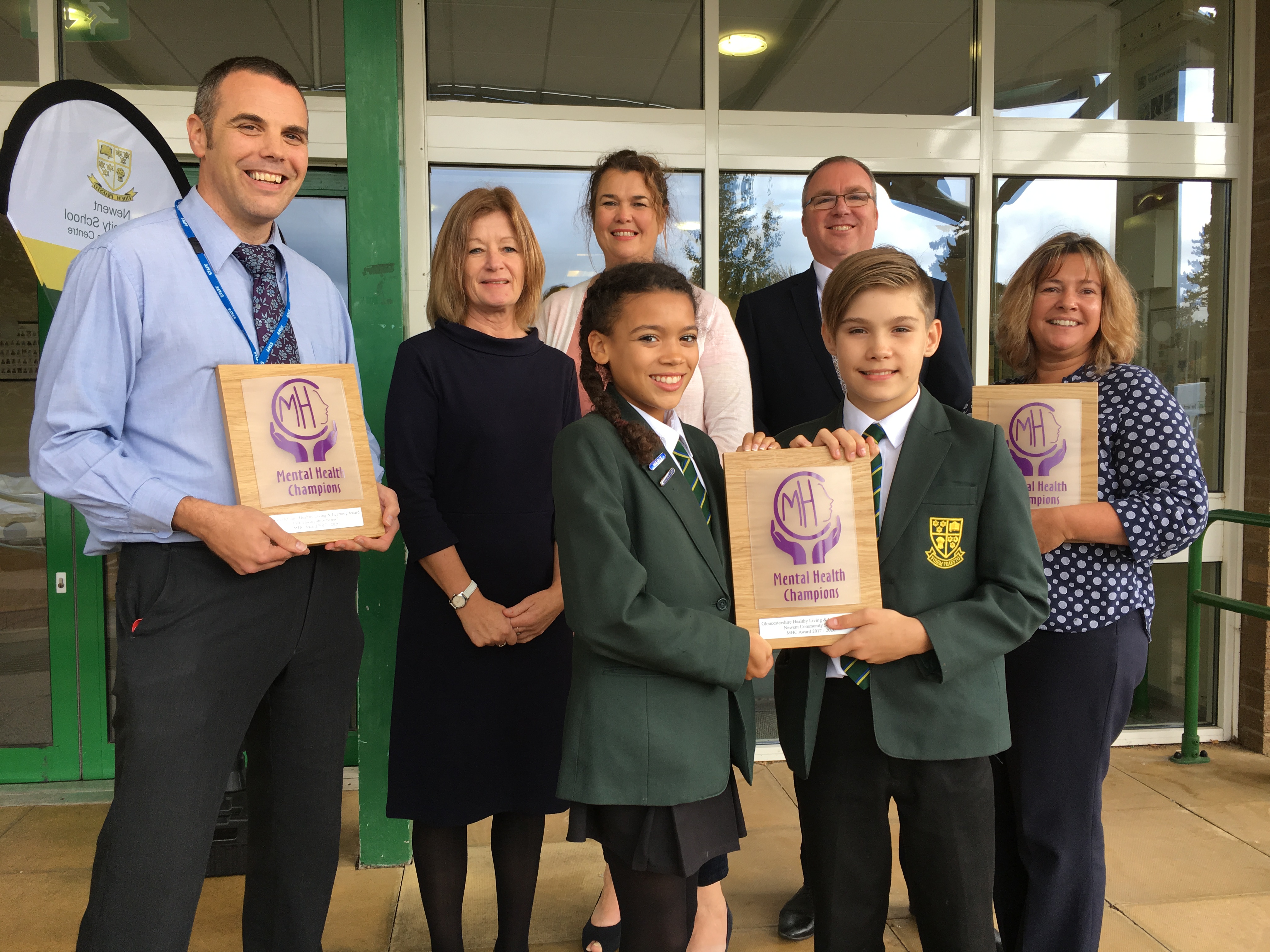 Newent Community School, Picklenash Junior and Glebe Infants are today celebrating achieving the Gloucestershire Healthy Living and Learning Mental Health Champions Award. Newent Community School is the first secondary school in the county to achieve the award and Picklenash and Glebe are one of only a small handful of Primary providers in the County to do the same.
Newent Community School Principal Alan Johnson has hailed it as a great thing for children of all ages across the area. He said: "This award shows our joint commitment to supporting all young people, from the ages of four to 18, in an area which is crucial to their well-being and success but in which community resources are increasingly under pressure."
"We are delighted to receive this recognition of our outstanding practice in this area. Colleagues across all three schools have worked hard to ensure an exceptionally wide and effective range of initiatives to support young people's mental health are in place".
In order to achieve the award, the schools had to devise and implement an effective programme for supporting both students' and staff mental health. At the secondary school this included the One Act of Kindness Shared scheme, involving students considering and practising the benefits of being sensitive to, and connecting with, others through small but significant positive gestures. At Picklenash, initiatives included a whole school sports mentor scheme to highlight the benefits of play and exercise for mental well-being and encouraging older children to support younger peers to engage with sporting activities.
Having been recognised for their pioneering achievements so far, the schools will continue to develop initiatives to promote mental health for young people throughout the community. Mr. Johnson said: "While we are delighted with our increasing academic success, including that shown this summer with the new, harder GCSE qualifications, the emotional happiness and well-being of our students is of equal importance. We recognise that it is vital to give students access to emotional and mental wellbeing support in school, confident that this will give them a firm base from which to achieve even greater success."
Mr Tony Larner, who has only recently joined the local community as Head of Glebe & Picklenash schools, said: 'I have been thoroughly impressed by the community spirit that exists within the Newent catchment and the close relationship that continues to grow between all the educational establishments.  The achievement of this award really highlights the caring & supportive ethos that all three schools hold at the centre of their education and is something that all involved should be really proud of achieving and having recognised.'
The award was made by Fiona Quan-Lead for Health and Wellbeing (Education and Learning) Services for Children and Young People on Friday 13th October 2017.